Stories
"It's only a story, a collection of stories. From long, long ago."
Petronius
In the first half of the first century AD/CE, during the reign of the Emperor Nero, a court official, Gaius Petronius, wrote The Satyricon. The tale, which alternates prose and poetry, is a satyrical satire - yes, that spelling is important - featuring narrator Encolpius, his sometimes-best-friend-and-sometimes-bitter-rival Ascyltos, and Encolpius's lover/servant/cook Giton.
Much of the story concerns sex as the trio encounter characters across the spectrum of Roman life. Jealousies arise between the three; women and men seduce them; and impotence raises its unwelcome head - or, more accurately, keeps its head down. In between, there are episodes of theft and deception, kidnapping and slavery, death and torture, feasts luxurious and nauseating. Throughout, there is comedy which still resonates today - although occasional scenes are distasteful or repugnant to modern minds.
The original text
The version of The Satyricon that has survived the centuries is long but incomplete. What remains begins abruptly in the forum of a provincial town with Encolpius giving a speech on education; many pages later, after adventures both pleasant and unpleasant, it ends abruptly in the middle of a scene where - well, we won't spoil the story because it might spoil your appetite. Gaps in the text mean that the trio sometimes disappear from one place and turn up in another; there are references to people and episodes that have not come down to us; and characters that intrigue us pass out of the story and are never heard of again.


Modern versions




The original Latin text has been translated many times in the last four hundred years, with each new version giving contemporary insights and, shedding more light on the story's exuberant sexual behaviour. From Francis Nodot's seventeenth-century translation to Federico Fellini's and Gian Luigi Polidoro's 1969 films, Petronius' text has frequently been embellished, often without distinguishing which episodes were original and which newly created.






We confess to the same sin. Most of our version can be found in the original, but we have taken the liberty of inventing several characters and events, including one scene that is much darker than the rest. To



1969 saw two Italian films based on The Satyricon - Federico Fellini's widely distributed version and this seldom-seen production directed by Gian Luigi Polidoro
compensate for our audacity, our version is introduced by and commented on, not always approvingly, by Petronius himself. And because we live in the twenty-first and not the first century CE, our group of actors straddles the past and present and watches the stories with a critical eye.
Episodes
Some incidents in Petronius' tale, most of which appear in our version:
In the Forum
Encolpius' speech on the failures of modern education is challenged by Agamemnon (no, not that Agamemnon).
The Old Woman
Lost in a new town, Encolpius meets an old woman who offers to lead him home but leads him astray instead.
Night Worship
Encolpius and Ascyltos spy on a secret ceremony, with disturbing consequences.
The Tunic and the Robe
The trio lose a tunic with a bagful of money and find an expensive robe; chaos ensues when they try to sell one and recover the other.
Trimalchio's Feast
The trio are invited to a rich man's house for an opulent feast and entertainment.




Splitting up
Encolpius and Ascyltos argue over Giton and decide to part - what will happen to Giton?


All at Sea
Disguised as slaves, the trio are discovered by the captain and his rich passenger who want to subject them to very different fates.


Pleasure and Pain
What must Encolpius do to recover his virility?


Trimalchio's feast has become a byword for opulence and decadence.
This scene is from the Fellini film.
Eumolpus' will
How far beyond the bounds of civilisation will some people go to inherit a fortune?
The widow and the soldier
What penalty will the soldier pay for leaving his post?
The teacher and his pupil
Would you engage this man to be your son's tutor?
Not currently scheduled
* previous productions *
* request a licence *
---
Script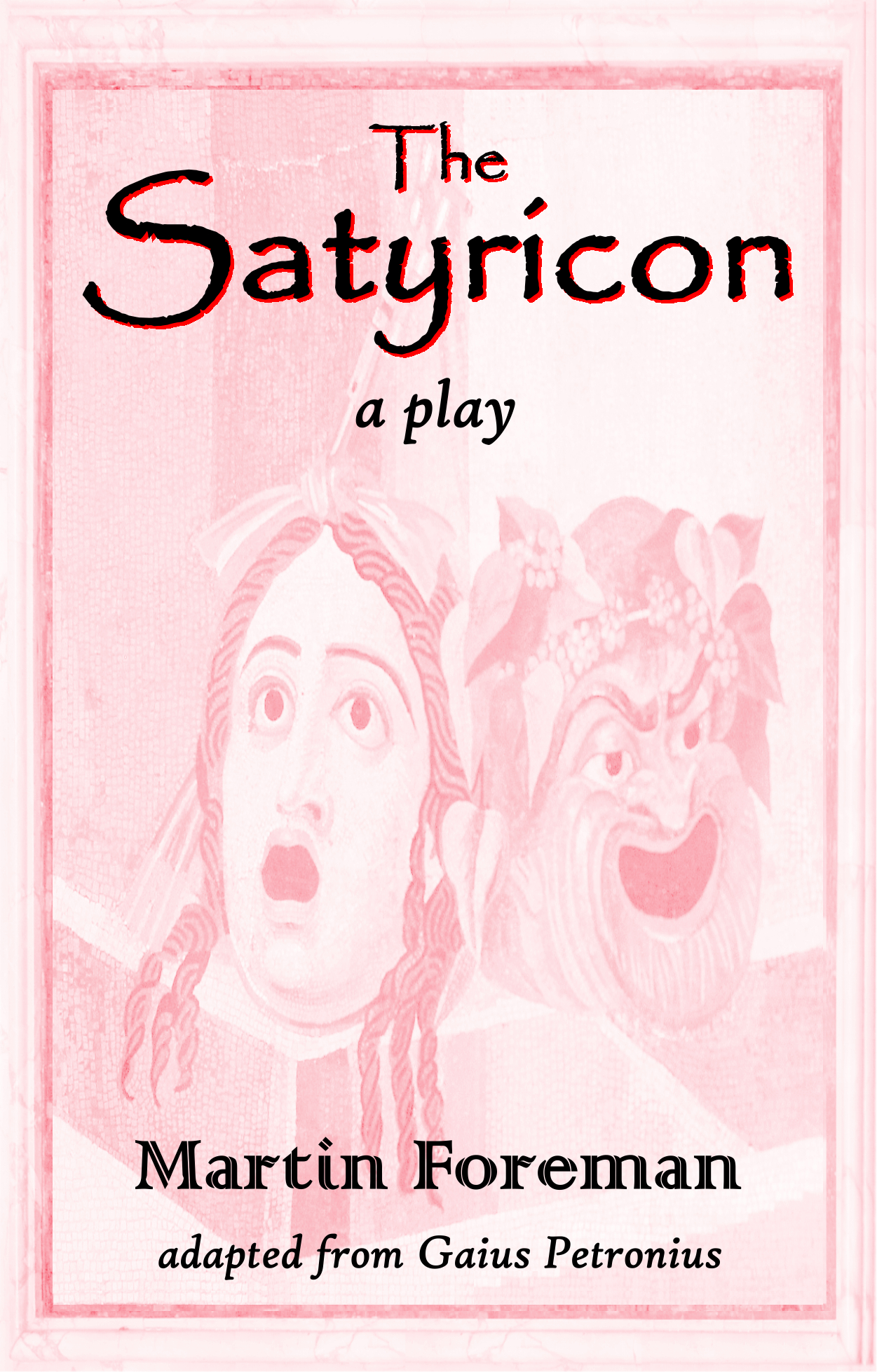 £10.99
free UK postage
---

---
---

supporting amateur theatre