Play
Encolpius, Ascyltos and Giton are three young men footloose in the Roman Empire. With long-dead Petronius commenting on their story and a cantankerous group of twenty-first century Actors bringing to life everyone they meet, the trio find themselves at the heart of adventures of seduction, deception, love, thievery, violence and more.
Step back into the past while keeping one foot in the present as you enter this picaresque tale. View sexual relations from the Roman perspective - and view the Roman perspective from today. Remind yourself that actors have a life beyond the stage - and that some lives never end. All this and more in the fast and funny, filthy and philosophical play that is The Satyricon.
Due to strong language and frequent sexual preferences, audiences should be limited to
16 years and older. Audience members may find some scenes unpleasant, painful or offensive.



---
Two thousand years ago Gaius Petronius wrote the Satyricon, the first story in Western culture to follow the lives of ordinary people, not gods, heroes or monsters.
Over the last four hundred years Petronius' original Latin text - the episodes that have come down to us - has been translated many times. Each new version has given given contemporary insights and shed its own light on the story's many adventures and exuberant sexual behaviour. From Francis Nodot's seventeenth-century translation to Federico Fellini's and Gian Luigi Polidoro's 1969 films, The Satyricon has been embellished , often without distinguishing which episodes were original and which newly created. Now Martin Foreman has created a stage comedy with a dark side available for production in the UK and abroad.
Meanwhile, for over a hundred years in academia and art Ascyltos, Encolpius and Giton and those they meet have been analysed and interpreted this way and that; are they selfish or selfless, calculating or guileless, moral or immoral? Should readers and audiences like or despise them? What binds the trio together or tears them apart? How do they interact with those they meet? We present one perspective but many others exist. To fully appreciate the depth and breadth of Petronius' work we suggest you consult several translations and studies. The link below (which includes "Satyricon" references unconnected with Petronius) and all the links on the texts page take you through to books and films on Amazon. Any purchase you then make there brings us a small commission - for which we thank you.
Playscript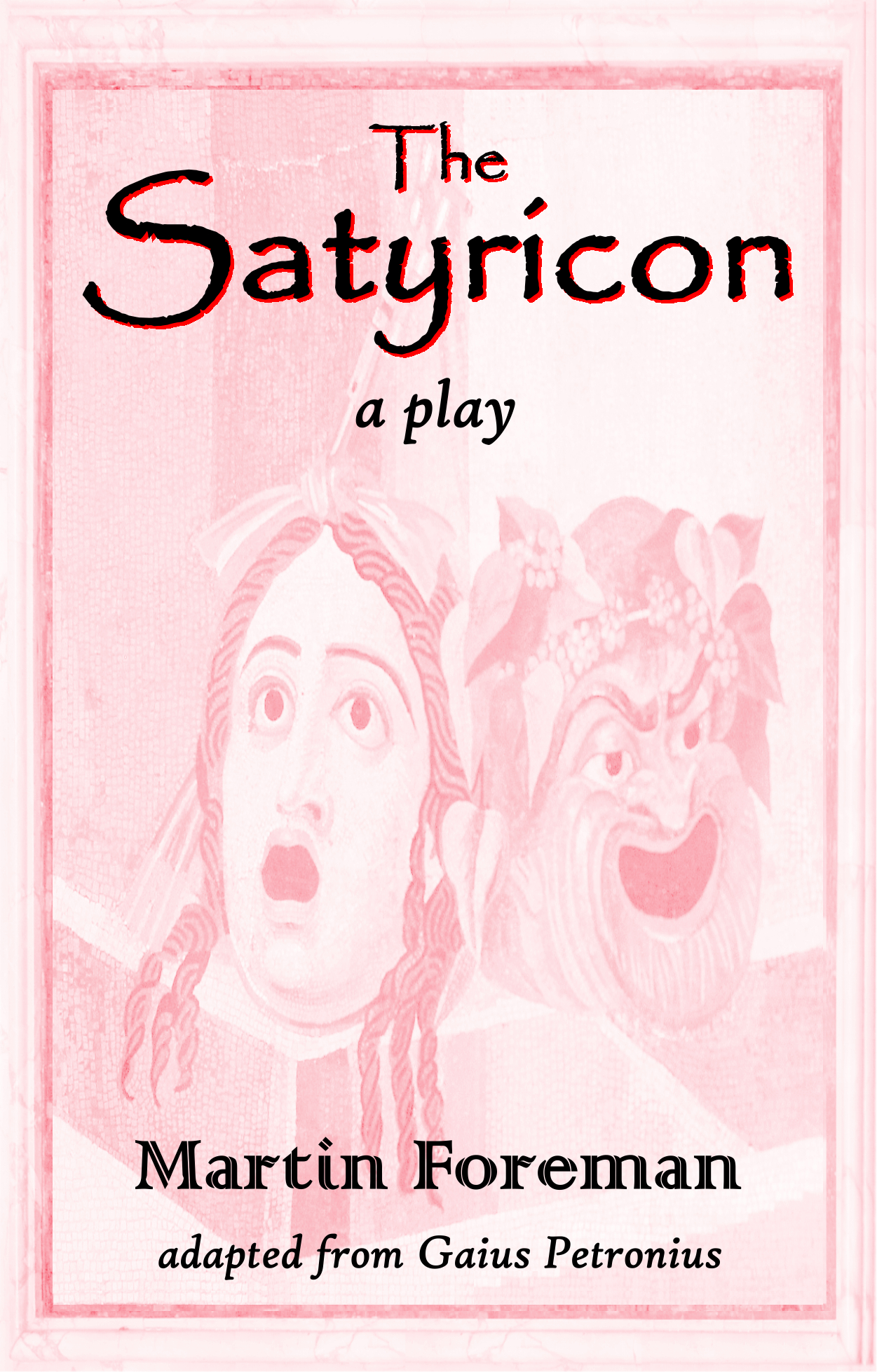 £10.99
free UK postage
---

---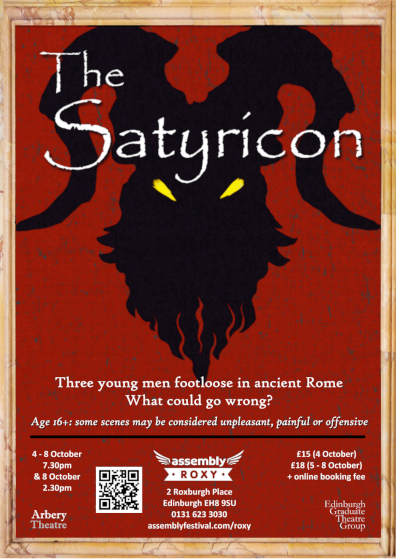 publicity for the October 2022 Edinburgh production