Encolpius, Ascyltos and Giton are three young men footloose in the Roman Empire. With long-dead Petronius commenting on their story and a cantankerous group of twenty-first century Actors bringing to life everyone they meet, the trio find themselves at the heart of adventures of seduction, deception, love, thievery, violence and more.
Step back into the past while keeping one foot in the present as you enter this picaresque tale. View sexual relations from the Roman perspective - and view the Roman perspective from today. Remind yourself that actors have a life beyond the stage - and that some lives never end. All this and more in the fast and funny, filthy and philosophical play that is The Satyricon.
Due to strong language and frequent sexual preferences, the audience should be limited
to 16 years and older. Audience members may find some scenes unpleasant, painful or offensive.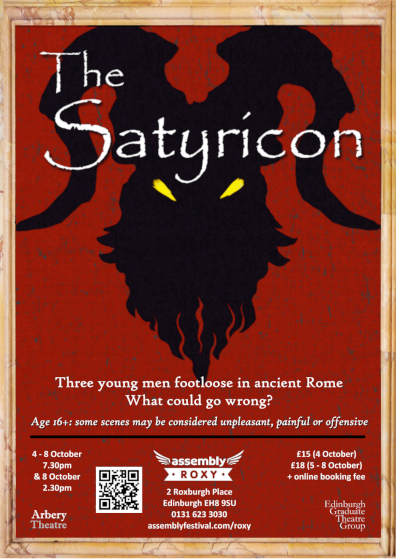 publicity for the October 2022 Edinburgh production